About Us
The Collectors Gallery, founded by Curt Holman, is your one-stop shop for Star Wars collectibles and other movie themed items. It was started by me in 1987 out of Rho Chapter of Sigma Nu fraternity at the University of Missouri while i was a pledge there and out of the back of Starlog magazine on ads i ran off and on until about 1991. I also advertised in the back of Lucasfilm Fan Club magazine. I was selling off duplicates of my collection at that time. I then put together a small catalog and offered items for sale. Starting in 1993, i went into some of the other mainstream magazines including Sci-Fi Universe, Science Fiction Age, and Toy Shop. I didn't start ordering direct from the liscenses until 1993. My website made it's debut in 1997. With the capacity the internet offers, I have increased my inventory of Star Wars collectibles to a wider market at a very reasonable rate. I offer the lowest prices possible on my new inventory. I had a article done on me in the May 2005 issue of the Wall Street journal online. I was the main supplier of props and Star Wars collectibles on the movie Fanboys coming out in 2009. Some of my Master Replicas Star Wars props and vintage Star Wars toys were used in the film. I have a credit in the film and i am on the dvd making of documentary. I also had a starring role in the theater scene sitting next to the entire cast at the end of the film. As the pioneering retailer of Star Wars collectibles i encourage all Star Wars collectors to visit the site. I am branching into other areas of movie collectibles that include comic, tv and movie themes as well as other great toy lines.
May the force be with you. Curt Holman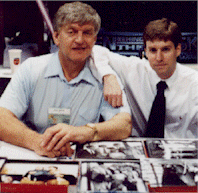 David Prowse (the real Darth Vader) and me.